Spider Collector's Journal (33rd page: 2023) Copyright © 2023 by Rod Crawford
Here's the 33rd page of narratives of fun (and not so fun) trips to collect spiders for research at the Burke Museum, some accompanied by capable field volunteers: Laurel Ramseyer and new recruits. Most also appeared in Scarabogram, newsletter of "Scarabs: The Bug Society." Dates of field trips head each paragraph. Maps showing the location of sites within Washington state follow the grid system outlined in the Washington Spider Checklist. RETURN TO INDEX
Where you see this button
in a field trip account, click it to get a page of collecting site photos!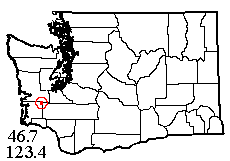 17 III 2023: After a miserable winter with nary a day of suitable field conditions, Laurel and I finally got a chance to breathe some field air! I'd made a plan for the vicinity of Brooklyn in the North River Valley, Pacific County, involving a cemetery, two tracts of working forest and other possible sites. Weather was as clement as one might hope, and the valley, reached by miles of gravel road crossing the north end of the Doty Hills (all working forest), was incredibly peaceful. But habitats were not exactly of the best.
The North River Cemetery was smaller than expected and offered limited habitats. Still, Laurel got three species (including the undescribed, pallid Lepthyphantes she sought) from those inverted metal vases recessed into the gravestones, while I beat at least 6 from varied shrubs.
Some other pre-selected sites were fenced or entry-restricted, but good old Port Blakely Timber had the standard hiking-allowed at their property on Howard Creek. Unfortunately, there was just enough cutleaf blackberry to sharply limit our access to potentially good habitats away from the road. I was able to reach enough alder litter to sift, getting 8 species, but only introduced Microneta viaria was present in any numbers. Fern understory also produced 8 species, but not invasive-dominated. Salal understory added 2 more and the steel gate we parked by, another 2. Laurel was able to reach plenty of siftable moss on alder trunks, and that was the best habitat with 15 species, but some of the standard moss spiders were absent, and she got only one juvenile of her Ozyptila crab spiders. The moss sample did include two of the day's 3 best spiders, single females of undetermined Walckenaeria and Entelecara. She also managed to reach one bit of the streamside sedge marsh, where her 4 species included one female of rare Porrhomma terrestre. I got more species (9) from conifer foliage, but all duplicated other habitats. Total so far, 37.
Now that school was out for the day, it was Laurel's idea to end our visit collecting outside the buildings of historic (1897) Brooklyn School. To the tune of a noisy dog from across the road, we added 5 different species from the buildings, and at the very end I found one Coreorgonal under a concrete chunk while Laurel got an uncommonly long-lived hobo spider under a rock. The school brought us up to 44 species! And it was Laurel's first time collecting in Pacific County.
29 III 2023: This week, just one good day was predicted, with even that one not good in all places. So on Wednesday, Jerry Austin and I chose a North Cascades site expected to be about as dry as you can get in March, the north end of Bacon Creek Road just before its permanent washout at Jumbo Creek. We reached the turnoff (via Darrington) easily, and at first encountered nothing worse than the usual potholes. Then, after crossing Oakes Creek via one of those newfangled "trough culverts", we found our way barred by a whole cluster of slender windfalls (alders and hemlocks). Here's where my folding backpacker saw came in handy! Between us we sawed through all that barred the way, with the thickest trunk just high enough off the road to slip under. A few lesser branches and rocks were movable, and with little further ado we reached the place where a side road (with a deep gully in it) led down to a bridge across the creek. We had total solitude here all day. It was mostly-sunny, warm (in the 60s) and no habitats were wet. Ideal, right?
The riparian forest floor was paved with leaf litter! I set up to sift at the edge of the gully — and got 3 spiders from two bags-full! Were conditions this winter too severe for litter spiders at the site? Anyway, I switched over to sifting moss, and that was halfway decent — but only halfway, 8 species, 2 of which I also got on the bridge.
There was some sword fern understory around, usually an excellent habitat, but the ferns here looked kind of sad, not very lush and plastered to the ground or the banks. Beating them, I got the same 2 species I got from the bridge, and one other! As the sun dipped behind the western ridge of the canyon, I started beating conifer foliage, at this site almost entirely western hemlock. Jerry had been spending most of his time doing the same on the other side of the creek. Between us we got 9 species from hemlock, 3 duplicating the prior fern catch. Jerry had also found two good species under loose bark, one of them Bathyphantes alascensis which I haven't seen in a long time. But our total was an inadequate 18 species. Can't win them all! At least we had fun.
Possibly we could have kept on as much as another hour, but the prospect of doing the rough, obstacle-course road out in the dark quashed that idea. At least we reached Darrington in time for a nice sunset. Fortunately, there is another gridspace to sample almost adjacent to this one, so a return trip later in the season will probably enable me to bag both!
8 IV 2023: Laurel wanted to check whether her cemetery spider occurs in eastern Washington, and we'd made a plan centering on the town of Quincy in Grant County. This Saturday was predicted partly-sunny and 59° there, a nice change from the steady west-side rains. Alas for predictions! We arrived to find no sun and a wind chill making it feel like 40. Quincy Cemetery, whose sign admonishes one to preserve its "dignity, beauty and serenity," looked stark and barren. Laurel managed to get 3 species (not the one she sought) from the recessed vases, while I got one from under a valve cover and one other from a row of cedar shrubs. We moved on to the grounds of a nearby medical center, where I found nothing new on junipers and Laurel added three more from pine cones. Now we drove north into farmland seeking an enclave of natural habitat. In vain! I'd preselected a potential sagebrush site, all destroyed now. Though we were on public land, locals in trucks acted suspicious. Another site, at the end of "Road R," featured a field that was impossible to sweep due to stiff thistle, and some rock rubble yielding nothing but juvenile salticids.
Our remaining hope was my second pre-selected site, a tiny triangle of habitat south of town bordered by West Canal, crops, and "Road 9." There was a nice-looking grove of non-native elm here, with plenty of litter to sift, but the first two bags had no spiders; the one spot in the woods that did produce any, had one species also taken from the cemetery and pine cones, and one good record, first finding of the non-native wolf spider Trochosa ruricola in the Columbia Basin. Laurel had somewhat better luck, adding 4 species from much grass-sweeping, and the best luck of all looking under wood, where she got a black widow and a single small female of an apparent new Drassyllus species. I got nothing from tumbleweeds but juvenile Philodromus, and nothing under rocks.
We had some daylight left, so we headed north out of town on "Road Q." Just before the gated entrance of a gun club, was a considerable tract of fairly natural sagebrush! However, a half-hour's beating produced nothing but juveniles. Sweeping roadside grass brought only one identifiable species, Dictyna coloradensis, already taken at West Canal. With a long drive home, we gave up the ghost with only 15 species. However, we did have that new Drassyllus; another consolation was delicious burgers in Easton!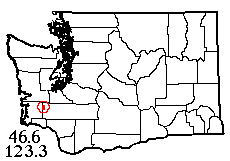 25 IV 2023: Midway down the west border of Lewis County, at the little-traveled end of Elk Creek Road before entering Weyerhaeuser's vast Pe Ell Tree Farm, is a place called Murnen: a few houses and no businesses. Having blinked, we barely noticed it. Soon we were in a publicly accessible clearcut just inside the tree farm, hoping for a good set of conifer-foliage spiders; and 11 species duly rewarded us. Clearcut grass and sedge (4 species) added nothing, but the site also gave me the season's first mature wolf spider.
Our main site was to be a mile back toward Murnen, at a bridge over substantial Elk Creek. Here, in peace and quiet except for an occasional log truck still shedding dust from the tree farm roads, I sifted litter (largely from scattered maple trees), getting a rather sparse 7 species, while Laurel sifted moss from tree trunks (12 species) and "clods" fallen from the canopy (5 species plus some juveniles of her favorite group Ozyptila). Understory, of ferns, salal and Oregon-grape, in the open forest between the road and the creek gave me a nice 6 species, and a fine sweep sample from riparian grass added 2 more. Foliage of the mature conifers along the road, even though somewhat dusty, added 4 not taken in the clearcut. An adjacent rock quarry with pond added no more species, but had some interesting sights inclding possible turtle tracks on underwater mud. Although no one habitat was extremely rich, in all we took a quite nice 42 species in the Murnen area!
Laurel just had to stop at another graveyard, so on the way back to I-5 we visited hilltop Claquato Cemetery, where she promptly scored her undescribed grave-vase spider and several others, some adding to a good sample that I and a student helper had taken nearby back in 1991. Near the west edge of the cemetery, I found a surprising population of native solitary bees hovering around the stones! And how nice to end our jinx with a successful day!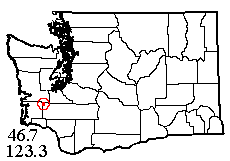 27 IV 2023: More than a month ago, Shane Sater, a Montana naturalist, was visiting friends in Seattle and stopped at my lab to learn a bit about spiders. He couldn't do a field trip then, not having his car, but on his repeat visit this month he had it! Wanting to make up for lost time, I set my trip with Shane for 2 days after the Murnen trip with Laurel. The destination was easy, the unsampled tract of working forest we'd passed through on the March trip to Brooklyn Valley. The day was perfect, and at an intersection about halfway across the range of hills, I saw habitats I thought we should check out. A clearcut to the south required a permit for entry, but the side road north, through well-developed alder-maple stands with some conifers and diverse understory, had no signs or barriers.
We parked and proceeded to my usual first order of business, sifting litter. The leaf litter here was really great, thick and moist and rich! Sifting two bags of alder and one bag of the less-abundant maple litter, got us 11 species, with Shane helping point out specimens and learning about the diversity that lives in this underfoot habitat. Next I gathered a big bag of alder and maple moss while Shane got a smaller one from conifers; sifting produced 12 species. Meanwhile, Shane had spotted the one mature Metellina in her web that we saw all day, and had a mature salticid dangling from his hat. With the sifting all done, we chased wolf spiders for a while in the muddy entry to the forbidden clearcut. At this point we had 26 species.
Now mid-afternoon, I wanted to divide and conquer, so I set Shane to sweeping roadside grass and herbs (he'd brought his own sweep net, so I assumed he knew how) and I descended into a shady ravine to beat hanging fern understory. Result, 11 species from the ferns and 16 from the roadside! Then, after we had a pleasant conversation with a couple of friendly, curious bikers who'd paused at our intersection, we took a "back door" (not posted) to an edge of what may or may not have been the forbidden clearcut. Between us we beat 15 species from Douglas-fir foliage. I later learned that there were small wetlands within walking distance of our site, but didn't know that at the time. As it was, we got a fine total of 46 species, though nothing very rare. The trip home was uneventful except that Shane discovered a Grays Harbor County speed trap! Fortunately the county cop was merciful and just gave him a warning.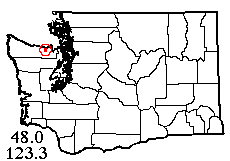 2 V 2023: On a fine-weather day, we crossed the ferry, stopped near Sequim for a brief sample at Sequim View Cemetery (adding 5 species to the Sequim sample), then turned south on Deer Park Road for sites just outside Olympic National Park. My main goal was a tract of meadow and riparian land belonging to the city of Port Angeles. Alas, all posted "No Trespassing, Danger, Old Munitions." Thanks to Laurel's later research, we learned the tract was used for army training early in World War II, and five years later two boys were killed when they sawed into a shell embedded in a log. Since that time, the area's been inspected and cleared five times, but now the owners consider it too dangerous! Oh well, it's a wide world with alternate spider habitats to be had.
Our first collecting site was a 2019 state clearcut not far north of the park border, with more Douglas-fir foliage than one could shake a net at. Beating the trees got me no less than 15 good species. The poor trees had much worse to contend with than that — target shooters, not content with cans and stumps, had shot off the ends of young branches in most of the trees I saw! Anyway, one common wolf spider was active in the clearcut, and Laurel beat two spider additions from overhanging ferns and shrubs, swept three more from herbs, and found 3 more (the best ones) under debris, for 24 total at this site.
Back up the road toward the coast highway, we'd passed a blocked logging road into a good-sized timberland tract. The tract is now accessed from the other side and this road is now a trail, complete with trail improvements, and no sign that the owners care. We walked up a short way and were able to sift litter and moss while still within sight of the car. I got a diverse-enough 8 species from litter (it was especially good in the shade of big boulders anchoring the gate), while Laurel added 11 more from relatively dry moss. A vast array of understory ferns was available, and produced 7 species, 3 adding to the list. While I was fern-beating, Laurel swept trailside grass and herbs (2 additions) and got one more from aerial webs. Our total from the 2 sites, 49 species, unusually good results from "second choice" habitats.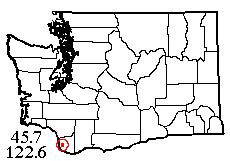 9 V 2023: A long drive south to Clark County was prompted by Laurel's desire to pursue her two research projects there, and determine whether the cemetery vase spider and/or introduced crab spider Ozyptila praticola occur there. Our first stop was the cemetery, buildings and woodland at Bethel Methodist Church near Ridgefield; a lovely spot and reasonably peaceful even though not far from the freeway. Douglas-firs bordering the lawn had hanging foliage within easy reach, yielding 7 species with Philodromus rufus really abundant. Pardosa vancouveri were active near the lawn's edge, and a small tract left unmowed produced Misumena. Laurel found 2 species, one of them the uncommonly-collected Tricholathys rothi, on gravestones, and just a few spiders in the vases (but including the one she sought).
As is now customary, I sifted maple litter (very sparse, likely due to invasive earthworms, except under one specific tree) while Laurel sifted moss from the trees; between us we got 10 species, including the only specimen of invasive Philodromus dispar. The various church buildings had varied small spiders on the outer walls, including two non-native jumping spider species that were first found, not long ago, in Snohomish County far to the north. I had 5 prior records from this area, since once upon a time I had several caving friends here, so adding these to the 26 new records gave us an adequate 31-species sample. The one Ozyptila specimen proved to be the native O. pacifica.
In the few hours left before our long voyage home, we decided to visit another cemetery, a larger urban one in eastern Vancouver called Evergreen Memorial Gardens (shhh, don't mention the word cemetery). This was too well-groomed to yield many spiders, but did have the subterranean Lepthyphantes and brought the local sample there from 2 up to 7.
16 V 2023: In 2021 we'd sampled at Fir Creek in southeastern Olympic National Forest. Today's destination was the next gridspace west, at the sources of Vance Creek (not so high in elevation, around 1400'). The forest road access was not too rough (though we had to toss off some freshly fallen rocks) but very crooked (over 8 miles to traverse a straight-line distance of 4) and just about deserted today. The site where we stopped had a mid-sized clearing; alder, maple and conifers; and a few patches of snow in the ravine bottoms! Two woodpeckers kept it from being silent. To begin with, Laurel and I sifted tree trunk moss and leaf litter respectively, for 5 litter species to which the moss added 9, incuding a hard-to-find male of tiny Trogloneta sp. #2.
I tapped dead wood in the forest, adding two species, and beat three more additions from fern understory. Laurel worked the foliage of western hemlock saplings in the forest shade, adding four more, and tapped fully 100 fallen Douglas-fir cones to get one solitary spider (it was Euryopis formosa, adding to the list). I beat the not-too-abundant sun-exposed conifer foliage, only 3 of the species taken adding to the list, but one of those was a quite rare Dipoena, D. malkini or maybe something new! Late in the afternoon, wolf spiders finally became active in the clearing, where between us we got two Pardosa species. One Laurel found under charred firewood turned out to be one of the same. But she added two more orbweavers from aerial webs, bringing our site total to 32. (One specimen taken by me in the opposite corner of the area, back in 1972, makes it 33.)
On the way home we stopped at a large cemetery in Tumwater, co-managed by three organizations who must have been passing the buck on vase maintenance; most of the vases were full of soil and debris, yielding only two spider species, not the one for Laurel's project. And the delay embroiled us in a traffic jam in south Seattle! But we enjoyed our day of solitude on Vance Creek.
The new field year is off to a good (if delayed) start!
---