Spider Collector's Journal (29th page: 2019) Copyright © 2019 by Rod Crawford
Here's the 29th page of narratives of fun (and not so fun) trips to collect spiders for research at the Burke Museum, some accompanied by capable field volunteers: Laurel Ramseyer and new recruits. Most also appeared in Scarabogram, newsletter of "Scarabs: The Bug Society." Dates of field trips head each paragraph. Maps showing the location of sites within Washington state follow the grid system outlined in the Washington Spider Checklist. RETURN TO INDEX
Where you see this button
in a field trip account, click it to get a page of collecting site photos!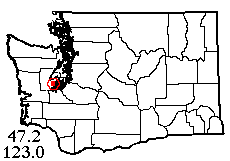 15 III 2019: In December and January we were far too busy moving mountains of stuff to the new museum building. In February, we had a record-breaking snowfall! So it was March before things came together for the first (and last) field trip of the winter of 2018-19. The weather finally warmed up in mid-month, so Laurel and I headed for Bayshore Preserve on Oakland Bay (near Shelton) on the 15th. The preserve is a former golf course subsequently acquired by Capitol Land Trust; it occupies part of a small peninsula in the bay, sharing same with a Department of Wildlife parcel, where we parked in becoming-warm sunshine.
My first order of business was to beat conifer foliage, which produced 10 spider species but nothing rare. Near where I'd been beating, I spotted some nice deep leaf litter deposits, well segregated into cottonwood and maple litter. Sifting cottonwood litter produced a lot of spiders so I kept doing it; to my later chagrin, all but 1 of the many spiders were the common Microneta viaria; only one isopod species too! The nearby maple litter was a little better, increasing the litter spider species to 5; some maple litter from a large tree in a grass field made that 9 litter species, not so bad after all. I swept 6 species from the very extensive grasslands (no doubt formerly the golf-course lawns), and understory added one.
Meanwhile, Laurel did a lot of moss sifting, getting 7 species from tree trunk moss in the golf course area and 3 more from trees by a stream. On the other hand, moss on the ground added nothing at all that was mature, which is fairly typical. She also got a few under wood on the ground, and tapped 100 Douglas-fir cones which produced the day's most interesting species, an unidentified erigonine female. At this site, practically at sea level, I spotted one unmelted patch of last month's snow!
Finally we stopped in the town of Shelton where Laurel had spotted some pine cones (of the non-native Pinus nigra) on the drive in, in a tiny pocket park. Tapping 65 of these added no different species, but I added a couple from nearby buildings, for a grand total of 37. For a change, we ate at Dairy Queen..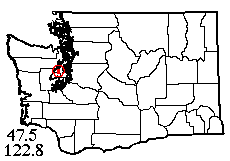 21 III 2019: Fall before last, we'd hiked in from the Gold Creek Trailhead in Green Mountain State forest, Kitsap County, to a fine wetland and other good habitats. This time (on the 2nd day of Spring), we wanted to sample the area closer to the trailhead, where we only took 3 species in passing before. It was the very last area to sample on the Kitsap peninsula! On the way, Laurel stopped for sandwiches near Gig Harbor and found some pine cones by the parking lot; adding 2 species for that area including a range extension for recently introduced Zodarion rubidum.
It was cool and sunny at the trailhead. We hiked a half mile or so to where the trail crosses Gold Creek and forks; here Laurel collected from the bridge (13 species!), I sifted alder litter (added 4) and beat understory (added 3 and duplicated many of the bridge spiders), and Laurel sifted moss (added 5). Though a weekday, the trailhead parking lot was crowded and there were lots of hikers on the trail. Curious ones who asked questions! Halfway back to the trailhead, at a spot where there were maple and Douglas-fir trees, I sifted (added 3) and Laurel tapped cones (added 2, including the very first Ozyptila pacifica found in a cone). One more spider from the trailhead outhouse, then we were headed north to different habitats in the Tin Mine Creek area.
Parking at a gated road, we walked up to an 8-year-old clearcut where conifer foliage added 6 species, roadside grass added 2, and a juvenile wolf spider and Cyclosa were easy to rear, making in all 40 species for the day; the prior sample from the trailhead makes it 43. The Kitsap Peninsula is all sampled now!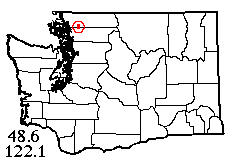 31 III 2019: It was the last day of March, unseasonably warm and sunny, and I had a shiny new trip plan for sites on the South Fork Nooksack River in south central Whatcom County. Laurel and I left Highway 9 on Saxon Road and stopped first at Saxon Cemetery, a seemingly old country burial-ground where most of the graves I saw were relatively new. Woodland around the fringes, non-native evergreen shrubs and slightly unkempt grass promised productive habitats. However, we found spiders here to be relatively sparse — enough, however, for a sample. First, I beat 6 species from the few accessible conifer branches I could find. Laurel added 2 good species from fir-cones and sifted 7 from tree-trunk moss. I settled down to sift 3 bags of maple litter, but the litter spiders were rather sparse here; diverse enough, however, to give me 11 species. Laurel added 3, including 2 nice females of Metellina mimetoides, from grave monuments and a storage container. We moved on from here with 26 species, including the only Ozyptila crab spider of the trip, a female O. pacifica from litter.
Our second site was Saxon Bridge, crossing the South Fork with a nice parking area and lovely habitats. Here, my first concern was to hunt for wolf spiders on the gravel bar (I'd only seen and missed 2 at the cemetery). No sooner was I on the gravel when a nice big female Pardosa lowriei started leading me a merry chase, several times scooting out into the river and back, but I finally got her. A male was much easier, and a smaller male at the edge of a sandy stretch proved to be Pardosa xerampelina, both very nice records. Meanwhile, Laurel had been trying the riverside moss but found it very uncharacteristically dry and not giving her what she wanted. We added some species from bridge guardrails and fern understory, and I sifted some more maple litter with only 2 species different from the cemetery. Still, even with rather sparse pickings we finished a fairly short day with 36 species and some good records to boot; also having seen some brand new territory.
The move to the new museum building is all done, and it's great to be back in the field!
---