Spider Collector's Journal (32nd page: 2022) Copyright © 2022 by Rod Crawford
Here's the 32nd page of narratives of fun (and not so fun) trips to collect spiders for research at the Burke Museum, some accompanied by capable field volunteers: Laurel Ramseyer and new recruits. Most also appeared in Scarabogram, newsletter of "Scarabs: The Bug Society." Dates of field trips head each paragraph. Maps showing the location of sites within Washington state follow the grid system outlined in the Washington Spider Checklist. RETURN TO INDEX
Where you see this button
in a field trip account, click it to get a page of collecting site photos!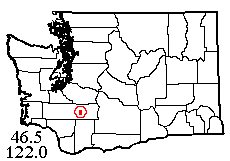 12 II 2022: Thanks to a good forecast for Lewis County, Laurel and I re-instituted our traditional February field trip, heading for the spot predicted to be warmest, Rainey Valley Cemetery along Highway 12 in the eastern third of the county. Reaching the place in due course, we found that a grassy field was matted too low for much sweeping and the rest of the non-lawn habitat was swallowed up by blackberry, including all accessible parts of Stillner Creek. It was too early for any mature wolf spiders, but I did manage to sweep 4 species of grass-dwellers. Thanks to one accessible Douglas-fir tree, Laurel got 3 good species from cones and I added 4 from the foliage. Two more were on a service building, and a windbreak of tall cedar shrubs was loaded with Philodromus dispar. Some dry moss at the base of the cedars had two of the commoner moss-dwellers. The most interesting habitat was a feature of the gravestones: built-in metal vases, stored inverted and recessed into the ground when not in use. These pocket-sized subterranean habitats added 4 species, including several "Lepthyphantes (Palliduphantes)" sp. #8, an uncommon species that's been found underground before. Twenty in all from the cemetery, where we didn't see a living soul the whole time.
We hoped for better things on Bowen Road along Kiona Creek, about 1.5 miles east of the cemetery. Certainly the habitats were far more natural, with no visible blackberry. We began by sifting, Laurel getting 13 species from moss on cottonwoods, while I added only 4 from leaf litter that was either far lower-quality than it looked, or not quite warm enough. However, the litter did produce the only adult Ozyptila crab spider for Laurel's project. Understory added 7 for a total of 38, not so bad for winter. I persuaded Laurel to try rearing a gravel-bar wolf spider she found on the bridge. We dined at Spiffy's drive-in in Morton, which we'd rate well below Betty's Place or Mountain High Hamburgers, but OK in its way and with good shakes.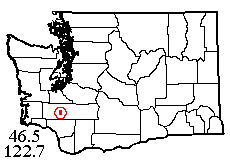 25 III 2022: A repeat of last month's colder in the north, warmer in the south pattern brought us back to Lewis County, this time to Carlisle Lake Park just outside Onalaska. Carlisle Lake is a former millpond that once served a timber mill of which nothing remains but a tall historic smokestack. A gravelled dogwalking trail circles the lake with various dirt tracks including one more directly along the shore, through young but well-developed cottonwood-dominated forest with varied other trees, grassy openings, and (alas) a wide-spread infiltration of lurking blackberry. To begin with, I headed straight for an area on the far side with visible conifer foliage, staying there the whole day. A bit of grass-sweeping got me 5 species including Spirembolus abnormis; later I added 2 more plus a rearable Pardosa in a bigger somewhat-squashy expanse of field. My first sifting session got me very little from third-rate litter, but later I found some decent stuff under one of the biggest cottonwoods for 6 species plus other goodies. A couple of white pines had dropped enough cones so I could tap 25, but with my usual luck, added no spiders. Finally coming to the accessible conifer foliage, beating that was successful enough, and fern-understory beating added a few more for a total of 25.
Meanwhile, Laurel seemed to want to add as many subsites around the lake as possible. She sifted alder-trunk moss at the SW corner, adding 8 species including her favorite Ozyptila pacifica; dead wood nearby added 3 more plus a nice ethopolid centipede. At the far NE corner she found some more pines, where cones added introduced Zodarion. Thistle heads on the east side had the only mature Larinioides patagiatus plus a Misumena. Manmade substrates around the parking lot added 3 house spider species; and a grass sweep all the way around the perimeter (requiring coordinates reduced to 0.01 degree accuracy) added three linyphiids, one of which I haven't yet figured out, perhaps an Aphileta. Laurel got plenty of questions on the dog-walking route, while I only talked with one party on my side track. The day finally got sunny and warmer after 3 pm. Spring budding was noticeable here and there, and grass was up enough to sweep, but the cottonwoods were still bare. In all, we got 45 species, and 2 taken nearby long ago make it 47.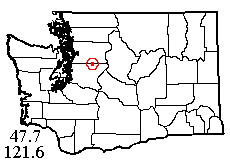 7 IV 2022: For years, Laurel and I have wanted to collect in the area bordering the Tolt River Watershed on the north, but the road into the area has been closed, with entry by permit only. This spring I checked again, just in case, and the Forest Service said it was open! So we waited for a prediction of warm-enough weather, and today was the day! The road was indeed open and after only one wrong turn, there we were a few hundred feet from Cavanaugh Lake. There was unlimited conifer foliage to beat where we parked; up the road was a quarry and a narrow stand of mature hemlock; and the lake itself was as gorgeous as many lakes you have to hike miles to reach!
The conifer foliage fully realized its promise with 12 spider species, including two Ceraticelus, one unfamiliar. Meanwhile, Laurel was sifting 15 from moss by the lake, including her favorite Ozyptila pacifica. Up at the quarry, our luck wasn't so good: the litter of 2 alder groves added nothing. Laurel added 2 on boulders, one under herb leaves, and our one mature wolf spider, Pardosa wyuta, under charred firewood. My fern-beating added one, and bark-tapping got me an unusual male linyphiid resembling the one Laurel swept on our previous trip. Still, we were up to 29 species now.
Back down near the lakeshore, litter sifting was much better, but only 3 species added to the list. Laurel added 3 more from understory, and we had 35 species from Cavanaugh Lake, where we spent the day in amazing solitude. Except for half an hour when someone was shooting up at the quarry, not one sound of other humans on this balmy day. The whole time, only one plane flew by overhead! On our way out, we stopped at a bridge over Proctor Creek; unfortunately, there was no bridge-railing habitat and the gravel bars produced no wolf spiders, but some more moss sifting added 3 more species (some of the "usual suspects" of lowland moss, missing at the lake). Thanks to the early season, all the mountains were snowy, making this one of the most scenic field trips ever!
24 IV 2022: A wet, wintry month had us thirsting for drier climes, so we undertook the long drive to Grant County in central Washington. Our main goal was Sunland Park on Wanapum Reservoir (formerly the Columbia River), associated with the Sunland housing development, a dense community of ticky-tacky houses plunked out in the middle of nowhere. Obviously marketed as the land of sun, while carefully failing to mention the wind! Our first stop was a sagebrush/rimrock habitat just above the houses. It looked good, but we got only 3 species from sagebrush, with one each added by herb-sweeping and rock-and-wood turning. So, down to the park!
In the park's central area of lawns, there were 2 non-native pine trees, so of course Laurel tapped cones. This produced only 2 identifiable species, but one was a new state record, an undetermined Grammonota species, so who's complaining? The outsides of park buildings gave her a mystery dictynid and a nice male of recently introduced salticid Attulus ammophilus. In the less-groomed (I won't say natural) habitat north of the lake, with scattered non-native elms in grass and rabbitbrush, I sifted litter adding 2 species, swept two more, got an unusually long-lived hobo spider under a log and a native Salticus peckhamae from the shrubs; and missed the day's one adult wolf spider among shore boulders. South of the lawn, in similar habitat, Laurel added 4 more (and an adult of one of her young pine cone spiders), making 20 species so far.
But the two sites we visited after leaving the Sunland community had the best habitats of the day. At the state/county, open-to-the-public Sunland Boat Launch, there was true sagebrush habitat with little invasive rabbitbrush. Manmade habitats were no slouch there either: the chain-link fence added two or three more Dictyna species, the outhouse a mystery Philodromus plus the first Washington record of introduced pholcid Holocnemus pluchei! Then, as the sun sank, we visited a Department of Wildlife site high above the river. This lovely area had not only more natural sagebrush, but natural bunchgrass and flowers in between! The foliage here added 4 more species (including a male black widow on the sagebrush), making 28-30 for the day.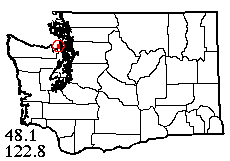 1 V 2022: This time, we made it a ferry trip to minimize driving time. The goal was a section of the Quimper Peninsula to the west of Port Townsend, where housing development is eating up chunks of the landscape but enough public land parcels still exist to provide spider habitat. Our first stop was an unnamed tract of woods (cedar and alder, mostly) belonging to the city of Port Townsend. I found alder litter that was more spider-rich than any I'd seen this year, and kept sifting until I had 14 species. Laurel had similar luck with moss (19 species total), but no Ozyptila whatever, in fact not one crab spider! We got 10 species in fern understory (only one in salal that was different, though) and Laurel got a solitary Metellina curtisi in her web. Total so far, 31, in the year-so-far's champ site for sheer numbers of spiders.
A second pre-selected site turned out to have no accessible conifer foliage, so we rolled on to a tract of DNR land on Jacob Miller Road, and found it's been transformed (via a 50-year lease) into the Quimper West Preserve: an 80-acre patchwork of swampy and upland forest, no very big trees but an unusual mix of species, very dense, and bisected by a somewhat muddy trail much in use by neighborhood walkers and runners. Intermittent grand-fir foliage along the main trail gave me 12 species, including an unfamiliar Pityohyphantes plus Linyphantes orcinus. Laurel swept trailside grass and got Linyphantes nehalem instead, plus other things. One net-full of trailside moss added two more species, and the flowers of a bitter-cherry tree a passerby pointed out to us, had the day's only Misumena vatia. Up to 42 species now.
Now we moved to the adjacent roadside, where we finally found some Douglas-fir. I beat branches of one, and Laurel found another that had dropped 90 open cones for her to tap! Here, I got a rare Theridion, yet another Pityohyphantes species, a mature Ero canionis pirate spider, and finally a couple of Philodromus species. Laurel's cones confirmed one of the Philodromus and added introduced Zodarion. Total species, 46.
The slow-starting field year begins to pick up speed!
---