Spider Collector's Journal (30th page: 2020) Copyright © 2020 by Rod Crawford
Here's the 30th page of narratives of fun (and not so fun) trips to collect spiders for research at the Burke Museum, some accompanied by capable field volunteers: Laurel Ramseyer and new recruits. Most also appeared in Scarabogram, newsletter of "Scarabs: The Bug Society." Dates of field trips head each paragraph. Maps showing the location of sites within Washington state follow the grid system outlined in the Washington Spider Checklist. RETURN TO INDEX
Where you see this button
in a field trip account, click it to get a page of collecting site photos!
27 II 2019: Wet and cold had prevailed since the 2nd week of November. Not until February of the new year did we have a couple of windows of field weather. On the second of these, Laurel and I actually managed to get into the field again! Our destination was the east side of Hartstene [a.k.a. Harstine] Island (west side visited in 2017). My primary goal was a tract of working forest owned by Manke Timber, which doesn't mind recreational activity if you don't consume timber. We parked by a gated logging road off Ballow Road; all was peaceful, the vegetation was dry, temperatures were cool but soon warmed to shirtsleeve comfort. However, the foliage-dwelling spiders in this locality were definitely a bit sparse. I first swept 5 species from clearcut grass, not bad, and Laurel added 3 more (plus a couple of unwelcome ticks) along the roadside. Young conifers to beat were abundant as usual in such an environment but multiple beating sessions only added 5 more species. In an adjacent mature forest tract, understory (evergreen huckleberry, salal and ferns) was extensive but had few spiders and added no species. At the same site, Laurel tried cone tapping and got nothing. Laurel's best luck at this site was from moss-sifting, but even that was a struggle (both in brush-penetration and sifting effort) to get some good spiders, ultimately adding 9 species. I found a little maple litter to sift but only added 2 more. At this point we only had 24-25 species, and some distinctly suspicious looks from the inhabitants of nearby residential areas, who seem very worried about crime in this remote location.
Cruising about for other possible sites, we found the historic (1914) island Community Hall building, whose walls added 2 species, and which had some more productive conifer cones with 4 more. Finally, at historic Jarrell Cove Cemetery (with the air cooling off) I gathered a bag of mixed leaf litter to take home and sift warm. This gave me 8 more species (though largely limited to the top and bottom layers in the bag) and a second mature Ozyptila crab spider (Laurel's special interest) for the day. So in the end we got 38-39 species, but I seemingly didn't pick the initial site with my customary care! We dined at "World Famous" Big Bubba's on Highway 3 on our way home. I make bold to deny their claim of "Washington's Favorite Burgers." They were OK, but Mountain High in Easton, or Betty's Place in Toledo (both Wash.) are far superior.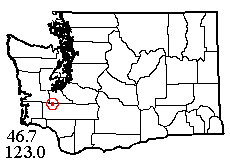 10 III 2020: Using a trip plan I'd researched last fall, we headed for the Grand Mound area (between Olympia and Chehalis) to collect at sites near the hamlet of Galvin. After a stop near the freeway for some unproductive pine cones, we proceeded to our first planned stop, Galvin Bridge over the Chehalis River. The site had grassy fields to sweep, and lo and behold they were dew-free! An adjacent maple forest had litter, moss and understory. And there were several small conifers to beat. The only fly in our ointment was a pile of 3 dead coyotes someone had neatly stacked in mid-field; being visited by flies of their own when the sun came out. Anyway, with field-sweeping, tree-beating and Laurel's combing the railings and sides of the long, spider-rich bridge, it wasn't too long before we had 23 species. Then we moved to sifting, Laurel hoping to sift Ozyptila crab spiders (among others) from moss on tree trunks, but it was I who found the male O. pacifica in maple litter. The sifting brought us to 37 species, and fern understory beating made it 41. Nothing exceedingly rare so far.
We hoped our second site would give us some more natural grassland habitat, a tract of public land on Eagle Creek reached by a short walk from the end of the county road. All county right-of-way according to the assessor's map. But locals don't believe it; that short stretch is posted "hunting, fishing, trapping or trespassing for any reason strictly prohibited." Not having a sheriff's deputy with us, we had to move on to the third site, a state clearcut [2014 and 2018 harvests] near Sponenbergh Creek farther west. This, we reached by a rather short but steep climb up a gated road, and used the last sunlight beating trees and sweeping, ultimately giving us 45-47 species. One of Laurel's swept specimens, in poor shape but an adult male, is the only one from the trip I don't immediately recognize. The drive home was uneventful.
2020 got off to a slow start, thanks to the pandemic. But we're still in there pitching!
---