Spider Collector's Journal (27th page: 2017) Copyright © 2017 by Rod Crawford
Here's the 27th page of narratives of fun (and not so fun) trips to collect spiders for research at the Burke Museum, some accompanied by capable field volunteers: Laurel Ramseyer and new recruits. Most also appeared in Scarabogram, newsletter of "Scarabs: The Bug Society." Dates of field trips head each paragraph. Maps showing the location of sites within Washington state follow the grid system outlined in the Washington Spider Checklist. RETURN TO INDEX

Where you see this button
in a field trip account, click it to get a page of collecting site photos!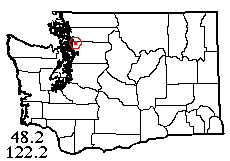 31 III 2017: After nearly 5 months without field work, favorable conditions finally came together for a short excursion to an area in north Snohomish County that should be reachable by bus, but isn't. Laurel (on her way to a hike with partner Marie Rose) dropped me off at the driveway to historic Zion Cemetery near Silvana. In the past, we've never had a problem with public access to cemeteries for spider collecting; but this one was prominently posted "No Trespassing." (I did venture in just far enough for a quick photo of the 1890 "Little White Church"). I'd hoped also to access gravel bars on the adjacent Stillaguamish River, but they were underwater leaving only slick mud banks. But on the plus side, the Pioneer Highway bridge had lots of niches for web-makers and an adjacent forest tract proved accessible, though at only one point (the rest was on the wrong side of a very active stream in Jackson Gulch).
In all, I sampled six microhabitats, only three of those being reasonably productive. First and foremost I spent 2-3 hours sifting the abundant maple litter in the forest tract, "hiding in plain sight" rather close to the highway. Many cars passed, but only one stopped and backed up: "Did I see what I thought I saw?" But they didn't get out and ask silly questions, praise be! The litter got me 10 spider species, plus assorted other creatures. Next I sifted some moss, which was lackluster and added only one species. Fern foliage, however, was rather productive and added six species. On aerial photos this forest tract looked rather extensive, but as I stood at the bottom of the slope I saw a human head drift by (at bicycle speed) right at the top, so evidently there was something private up there. I scouted around for grassy habitats and finally found some decent grass at the edge of a pasture, adding 3 species. Back at the cemetery entrance, foliage of cedar trees added nothing new at all, and none of the wolf spiders in the grass was mature. But the bridge abutments and adjacent structures added 5 more species for a total of 24. The day had been semi-sunny off and on, and cool but not cold. And was it ever nice to be out in the field again! Laurel picked me up right on time to the very minute. Postscript: one week later Laurel picked up pitfall traps I'd set here for her; alas, they contained no spiders!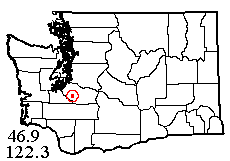 4 IV 2017: In cloudy but dry weather, Laurel and I headed for Rapjohn Lake in southern Pierce County, site of the only public access tract in another "hole" in my collection coverage. The origin of the unique name Rapjohn seems to be lost in the mists of time. Anyway, we arrived in good time and Laurel began tapping Douglas-fir cones (present in some numbers) while I strolled up the access road beating conifer foliage. I happened to meet the man who lived on the south side of the narrow public tract (he was walking his dog) and received permission to collect on the private land on that side; meanwhile, Laurel encountered the north-side neighbor who was similarly friendly, so we had a good tract to collect in. Besides the friendly neighbors, the site was also notably peaceful (on a clear day, we would have had a nice view too). I had soon beat 9 spider species from Douglas-fir and red cedar. Understory (salal, fern and Oregon-grape) added 5-6 more. Meanwhile, Laurel had added 2 more species from fir cones and 3 more from the public outhouse and other buildings.
I spent the bulk of the afternoon sifting. First, there was a nice deposit of litter under planted poplar trees beside the parking area. Nasty blackberry intertwined the area and I didn't get my litter sample without scratches, but 7 spider species resulted, including a Scotinella I don't recognize at all! Next, I sifted a bed of moss behind some horsetails in the lakeside marsh. It wasn't a bog (the moss was growing on soil) but very productive, adding 6 species. Finally, maple litter on the neighbor's land was only moderately productive, adding 3 species not taken otherwise. Finally, with the dew off the grass, Laurel and I swept the marshy lakeside meadows, adding 8 species; the best catch (in Laurel's sweep) was a Glyphesis microspider, previously taken only once at a lake about 1 mile to the southwest of Rapjohn! We were just getting ready to head for home when the first raindrops fell. On the way, we stopped at my 2014 Seeley Lake site to set some pitfalls for Laurel's crab spider project. Total catch from Rapjohn Lake, a very nice 39-43 species.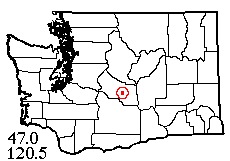 21 IV 2017: On possibly the loveliest day so far this spring, Laurel and I headed across the pass to pick up an undersampled area just off the I-90 freeway near Ellensburg. Available tracts here included a large field belonging to the county, a dense belt of cottonwood along the Yakima River, a pine stand along a retention pond on the freeway side of the river — and the local HQ of the Washington State Patrol! I started off to sweep the county field. Since last year much of it had been taken over for gravel storage, but there was still enough field for a sweep sample, not very diverse but including an uncommon microspider. A pile of large cobbles had 2 good species active in the sun but few spiders under the rocks, where instead I found 2 blue-tailed skinks! Across the road, the police had planted some young pines whose foliage added 2 more species; later, Laurel tapped pine cones here getting 2 she hadn't taken at her first cone site near the freeway, which was exceptionally productive getting 9 species and more than 1.5 individual spiders per cone (see her account).
I expected to get a good sample sifting cottonwood litter by the river, and I wasn't disappointed. I probably spent 3 hours sifting, getting litter from slopes, flats, and perched on stumps and tree boles. Just about the time Laurel joined me after her first pine site, I discovered I didn't have the vial containing my first 2 hours' sift sample. I knew it couldn't be more than a few feet away, but we spent around 15 minutes searching without result. Finally I found it inside the bag of not-yet-sifted litter! The full litter sample had 11 spider species and assorted other good things. The most remarkable, though, was a male of the common telemid Usofila pacifica; I've seen hundreds of females of this spider (possibly parthenogenic) but this is only my second male! Laurel had also taken much better under-rock spiders at her site than I had in my rockpile. Having a nice sample of 32-34 good species, we headed for our customary Mountain High burgers, then home.
Hooray, the 2017 field year has finally begun! Stay tuned!
---